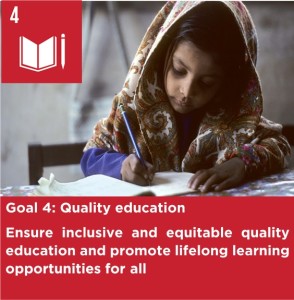 Goal 4: Ensure inclusive and quality education for all and promote lifelong learning
103 million youth worldwide lack basic literacy skills, and more than 60 per cent of them are women
By 2030, ensure equal access for all women and men to affordable and quality technical, vocational and tertiary education, including university
By 2030, substantially increase the number of youth and adults who have relevant skills, including technical and vocational skills, for employment, decent jobs and entrepreneurship
By 2030, eliminate gender disparities in education and ensure equal access to all levels of education and vocational training for the vulnerable, including persons with disabilities, indigenous peoples and children in vulnerable situations
By 2030, ensure that all youth and a substantial proportion of adults, both men and women, achieve literacy and numeracy
By 2030, ensure that all learners acquire the knowledge and skills needed to promote sustainable development, including, among others, through education for sustainable development and sustainable lifestyles, human rights, gender equality, promotion of a culture of peace and non-violence, global citizenship and appreciation of cultural diversity and of culture's contribution to sustainable development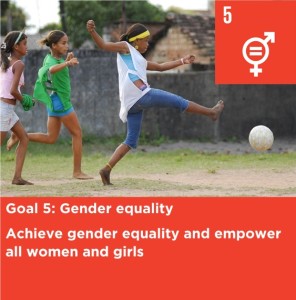 Goal 5: Achieve gender equality and empower all women and girls


Providing women and girls with equal access to education, health care, decent work, and representation in political and economic decision-making processes will fuel sustainable economies and benefit societies and humanity at large.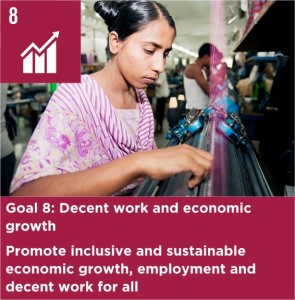 Goal 8: Promote inclusive & sustainable economic growth, employment and decent work for all

Global unemployment increased from 170 million in 2007 to nearly 202 million in 2012, of which about 75 million are young women and men. The creation of quality jobs will remain a major challenge for almost all economies well beyond 2015.
By 2030, achieve full and productive employment and decent work for all women and men, including for young people and persons with disabilities, and equal pay for work of equal value
By 2020, substantially reduce the proportion of youth not in employment, education or training